Moving Head Light
AYL-A001 1200W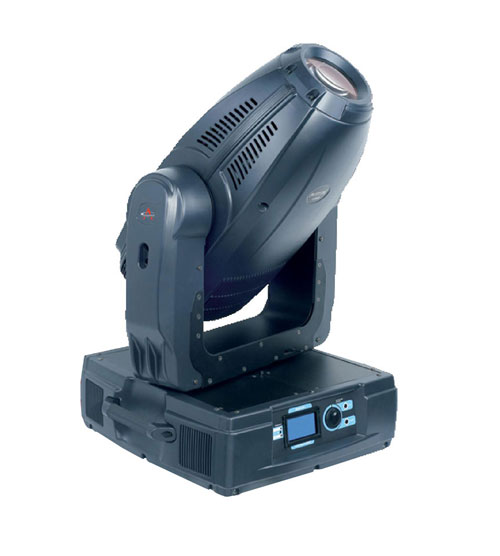 With adjustable aperture size of the contraction function (a light beam can be adjusted according to field programming required size)
Color plate with six replaceable colors + white.
The independent effect of the spray equipment, adjustable mirrors.
Full CMY + CTO, three-color mixing, color, colorful (adjustable infinite color effects)
Three-color switching speed adjustable (automatically deploy different colors)
0-100% mechanical linear dimming (which can control the entire shade to full-light effect)
1-10 times / s ultra-fast strobe and adjustable strobe light effect from dual-gate system to complete.
Light body can be used for the level of 530 ,  a wide range of vertical 280 rotation, movement smooth and fluid. And using photoelectric reset the system, when the lamp body by external forces, after the collision shift can be automatically corrected, reply in situ.
Horizontal, vertical rotation speed can freely be adjusted. And to achieve precise positioning micro-step.
Rotating Gobo wheel 1 with 6 interchangeable rotating design + choose a circular spot, pattern plate can be a continuous scroll.
Rotating Gobo wheel 2 with 6 optional interchangeable rotating circular spot pattern +. Pattern rotation can be both positive and negative, speed free adjustment.
Equipped with a prism, pentaprism, and two kinds of effects mirrors the professional prism plate. Prisms positive and negative rotation, speed adjustable.
Each rotation pattern and the prism angle and position can be adjusted individually (to ensure consistency of design direction point of view, this feature is particularly suitable for use in projection LOGO)
Electronic remote-controlled focus, from 2 meters to infinity is to ensure that if a clear pattern. And have the image amplification.
Electric linear zoom, allows a light angle from 13 to 42  between  range.
24-32 months DMX control channels, three kinds of protocol mode.
9 Ling-induced convection fan, internal road design optimization of wind, heat well enough
Built-in overheat protection, triggered high-voltage protection.
Accept DMX512 international standard digital signal
PFC power factor compensation
Compliance with various safety standards, IP20 protection class, power lines in line with CE20/22 standards.
Size: (L x W x H) 525 x 537 x 620 mm Weight: 52 kg